I wanted to come here and wish you all a Happy New Years Eve! Life has been busy for our family as Christmas was busy as usual and Olivia was sick that day! Then we were looking at some Dining Room Tables on Friday, Olivia spent time with my mom and Jason and I went to Rooms To Go in Dunn, NC. We found a table we liked but I wasn't in love with it. Plus it was a big table and honestly I felt like it would take up a lot of room in our dining room. We measured yesterday and we just felt like we weren't in love with it either. Plus it would have taken all of our money we received from my grandma as our Christmas gift which we receive each year. I feel very blessed we have a wonderful grandma who gives us this gift.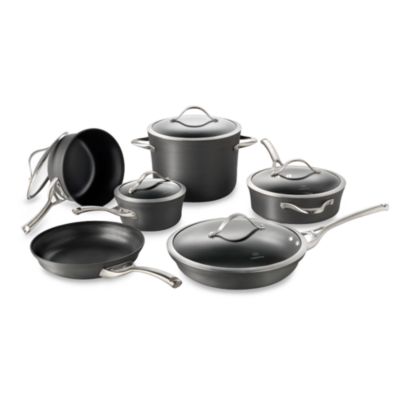 Then we went to Petsmart to get more dog food that was needed. Then we went into the Bed Bath & Beyond in Wilson and we started looking at some of the pots & pans. We have needed some new ones for quite some time and this was the perfect opportunity for us to get some new ones. We ended up settling on a Calphalon set and it came with some pretty amazing extras too! We got the 11-Piece Contemporary Set and it came with a $50 gift card and because we spent $399 we also received the Calphalon Contemporary Wok and the Calphalon Signture Everyday Pan. We also got to use our gift card on the purchase of the new set so that was an even better deal for us! Score! I am so happy we decided to go with these pans! We have already used them for the meals we've already cooked at home since Saturday morning.
Then we decided to head on over to Badcock Furniture yesterday and look at a few dining room tables. We had seen 2 we really liked and they weren't too expensive either. So happy we decided to go as well. We found one table we really liked and had to get it. We decided to get it and it will be here on Thursday! Perfect for when I decide to cook dinner next weekend. Jason will be home on Friday night so Saturday we will eat together as a family at our dining room table. So happy we decided to go and check out the Badcock in Wilson. Also we went and saw "Star Wars: The Last Jedi" last night in Raleigh at a new theater we found. Needless to say that theater is a keeper as it has recliners and finger foods! We will return to that theater soon!
But tonight we had a great taco night for dinner and Jason is all ready for bed. So am I. I never stay up long enough for the "festivities" so have a great night y'all! See you next year I guess!